Thanks for stopping by!  Today we're ha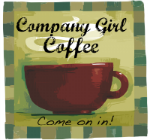 ving hot tea.  The Christmas dishes are already packed away, so you'll have to make due with my regular mugs.
Although I shared it on my Christmas pictures blog, I will share the story behind my favorite Christmas picture:
Our home is situated so that the bedrooms are all down one hall.  Our Christmas morning 'rule' is that the kids can't go into the living room until we're all up and going together.  Although our oldest is now 20 and living on her own, she came over and spent Christmas Eve with us and dutifully lined up in the hall with her sisters.  I love that at 20, 17, 14, and 14, our kids are still excited to see what "Santa" brought.
Happy New Year!
Cheryl