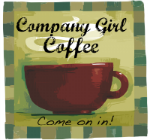 I'm so glad you stopped by!  I've got Creme Brulee flavored coffee on the stove, quietly perking along.   Please grab a Christmas mug and join me!
My biggest accomplishment this week was my response to Rachel Anne's "Haul Ass" post.  (Ass, in the Biblical sense!)  I decided it was time to make a serious dent in my shopping.  Imagine my surprise when at one of the stores, I was told if I took my receipt to our local mall, I would receive raffle tickets - 1 for every $10 spent in my city.  Wow - I managed to get 31 tickets in the drawing for prizes like gas vouchers, flat screen TV, surround sound system, DVD player, etc.  It was FREEZING and you had to be present to win...so hubby and I ventured to stand in the cold and listen for our number(s).  I'll cut to the chase.  NO, I didn't win anything but feet that were frozen and painful for the next few hours.  BUT it is rare that hubby and I just do 'nothing.'  It was a nice time to just have fun and grab a bite to eat.  I also got a lot of my shopping done, so it was well worth a day of Hauling...
I'd better get busy around here today, too.  I want to sew a couple of Christmas pillowcases and wrap a few presents.
Blessings,
Cheryl