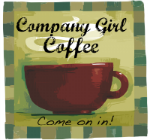 Good morning, friends!  Today we're sipping Starbucks coffee with Dulce de Leche creamer.  Oh my is it yummy!  We also have some Valentine's Day cookies to nibble on.  They're calorie-free, of course, because they are for a holiday and that cuts the calories out.  (You're welcome.)
It has been a week of ups and downs in our home, with God shining through even tough situations.  Praise Him for His faithfulness!
I got my quilt shipped to Texas where a lady is going to do the hard part - the actual quilting.  That's one thing I am not interested in tackling (yet?), so I am glad to have found a wonderful seamstress ... and she is excited at the chance to earn a little pocket change for her efforts!  In the meantime, another lady about an hour from my town was cleaning out her stash of fabric and selling yard increments for .50/yard.  The fabric was BEAUTIFUL and will make many lovely quilts for Binky Patrol.  I spent $60, which gives me well over 100 yards of fabric.  My husband is very patient.  Actually, he mentioned the amount and I asked if he'd like for the two of us to discuss the state of the garage and why he has THREE bikes, ONE of which he rides. :)
I am proud to say I am still on track with Home Sanctuary!  Usually by now, I forget to record points, or go through a day and forget to do the challenge.  Not this month!  The prize would look WAY too good in my office for me to be a slacker!  Yesterday's challenge for something sticky was fun and my creative juices got flowing!  I printed two pages of silly Valentine's Day riddles out for my kids and hung them in their bathroom.  They're teenagers, but will get a kick out of their silliness.  AND we used some sticky frosting to frost some more cookies (so glad I baked up all of the dough earlier in the week!).  We'll have plenty to share with the neighbors tomorrow.
Thanks for stopping by!
Have a blessed weekend!
Cheryl
P.S.  Will the Macy*s saga never end?  Why, oh why, should I get a bill stating I owe the full amount...when this was paid days before the bill was generated?  Goodness, Macy*s!  I sure hope the 7000 people you laid off aren't in your Collections Department because I have a feeling I'm headed back there!