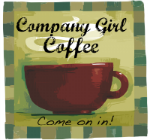 It's been too long since I hooked up for coffee, so I thought I'd jump back in today.  Thanks for stopping by and I look forward to visiting y'alls blogs, too!
I love it when a new month starts on a Monday!  It gives me hope in accomplishing all I want to that month…it seems like a fresh, new start.  I am resolved to stay on task with Rachel Anne over at Home Sanctuary this month.  My biggest pride this week was my husband's dresser.  (What a chore it was!)  I really should have taken a "before" picture of my husband's
dresser, but it was sooo bad that I was ashamed.  Instead, I present the "after":
Please note that the pitiful looking stuffed bear.  Hubby and one of the girls had a long standing joke of hiding this poor creature back and forth for the other to find.  He's lived on the dresser for about a year and when I dusted him off, he practically begged me for a trip to the Salvation Army.
My 'babies' turned 16 this week.  I guess it's time to stop saying 'I
just had twins' as an excuse for the extra flab?  Working on it, working on it…eating right and exercising…a slow process, but it's a work in progress.  Here's a not-so-great picture of them opening gifts early that morning before school.  Taylor is on the left, Kaylie on the right.  They are amazing young women who love the Lord and I learn so much from them daily.
Thanks for stopping by.  Have a blessed week!
Cheryl