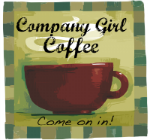 Where did the week go?  Seriously - how did it get to Friday already?  Oh how I love Mondays.  I start every week with such wonderful intentions.  I decide that "This is the week I will do every Home Sanctuary challenge!"  If you've had any interest in becoming a Company Girl, this is the time to do it!  Rachel Anne is holding our hands and teaching us home organization skills step by step.  Take a minute and go read this post and see what you think!  It's something that even I can do!  We'd love to have you join us.
I have been living 2009 as if it's my last year.  No, I'm not picking clothes to be buried in - but I AM looking at my "stuff" with new eyes.  What MESSES would I leaving behind for my family to deal with?  I know I have at least 100 yards of fabric.  Wouldn't they rather find completed quilts instead of a stash of fabric?  What about these skeins of yarn?  Maybe baby blankets for future grandchildren?  Do I really still need papers from the homeschooling days?  Notsomuch.  A dear friend is using this in her email signature line: 
Make it do; clean it out; use it up; do without! 
I think I've unofficially adopted this mentality.  With a 10% pay cut now approved for my husband, it's time to get creative and be careful about what we need to spend money on.
UPDATE ON THE MACY*S SAGA:
I sent copies of my blog to Macy*s in New York.  Funny how quickly I was contacted.  They *finally* sent me a bill.  It was even for the right month.  I even walked into our Macy*s and paid it.  With a check.  I was too lazy to go to the bank and request $39 worth of nickels.  Farewell, Macy*s.
Have a blessed weekend,
Cheryl